Overview
Project status: Completed
This thesis presents social requirements and design considerations from a study evaluating interactive approaches to social navigation and user-generated information sharing in urban environments using mobile devices. It investigates innovative ways to leverage mobile information and communication technology in order to provide a social navigation platform for residents and visitors in and for public urban places.
Research team

QUT

Organisational unit

Lead unit

Institute for Creative Industries and Innovation

Other units

1st January 2000

1st January 2000

Keywords

urban informatics
Details
Through a design case study this work presents CityFlocks, a mobile information system that offers an easy way for information-seeking new residents or visitors to access tacit knowledge from local people about their new community. It is intended to enable visitors and new residents in a city to tap into the knowledge and experiences of local residents in order to gather information about their new environment.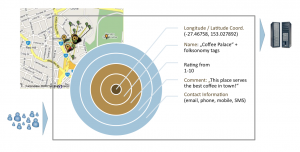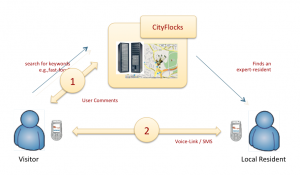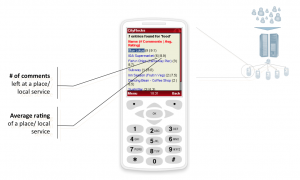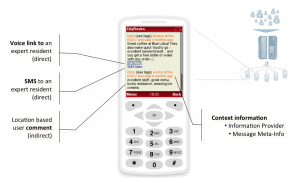 Its design specifically aims to lower existing barriers of access and facilitate social navigation in urban places. In various user tests it evaluates two general user interaction alternatives - direct and indirect social navigation - and analyses which interaction method works better for people using a mobile device to socially navigate urban environments. The outcomes are relevant for the user interaction design of future mobile information systems that leverage the social navigation approach.
Publications and output
Bilandzic, M., & Foth, M. (2009). Social Navigation and Local Folksonomies: Technical and Design Considerations for a Mobile Information System. In S. Hatzipanagos & S. Warburton (Eds.), Social Software and Developing Community Ontologies (pp. 52-66). Hershey, PA: IGI Global. ISBN 978-1-60566-208-4.
Bilandzic, M., & Foth, M. (2009). Mobile Spatial Interaction and Mediated Social Navigation. In M. Khosrow-Pour (Ed.), Encyclopedia of Information Science and Technology (2nd ed.) (pp. 2604-2608). Hershey, PA: IGI Global. ISBN 978-1-60566-026-4.
Bilandzic, M., Foth, M., & De Luca, A. (2008, Feb 25-27). CityFlocks: Designing Social Navigation for Urban Mobile Information Systems. In G. Marsden, I. Ladeira & P. Kotz (Eds.), Proceedings ACM SIGCHI Designing Interactive Systems (DIS) (pp. 174-183). Cape Town, South Africa. (eprints >)