Make a positive impact with a law and justice career.
Studying law and justice with us will give you the real world experience and confidence you'll need to problem-solve with a legal, criminology or policy mindset.
You'll network and be taught by leading and internationally renowned experts contributing to your strong law and justice knowledge.
You'll have the opportunity to boost your portfolio with work experience options throughout Australia and internationally as part of our work placement program.
Why study law and justice at QUT?
Enhance your networking skills by making meaningful connections with high-profile industry experts through mentoring, work placements and moot court opportunities.
Our unique 3D animated programs will give you a virtual environment experience to assist you in thinking like a law professional.
Study justice to prepare yourself for a career in law enforcement, crime prevention, social justice or security agencies.
Access our high quality QUT Law Library and Moot court facilities.
Take the opportunity to work or study overseas, with work placements in South-East Asia and the Pacific.
Real world success
Nick discovered his interest for digital economy law at QUT with the choice of technology and internet law units. Now, he's a digital economy lawyer in London.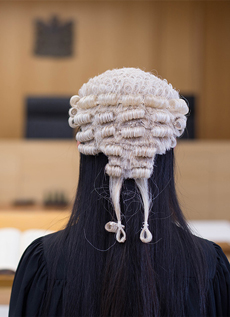 Moot court experience
When you study law with us, you'll gain hands-on experience and build your skills with mooting competitions and mock trials throughout your course. With fellow law students, you'll have the opportunity to compete as real legal professionals to practice skills required for a law career including research, legal writing, presenting and advocacy skills.
Double degree options
Our wide range of double degrees can help you fast track and broaden your career possibilities and interests. Studying a double degree can expand your understanding of how law and justice skills can be translated in to other fields of study.
Find out what to expect
Discover what studying a law or justice course is like, including course structures, study options and work placements.
Contacts
Faculty of Law
Phone: 3138 2707
Int. phone: +61 7 3138 2707
Stay connected
Get just the information you want on courses, scholarships and events.