How to apply to participate in Study Abroad or exchange.

Choose your subjects, and get your exchange study plan approved.

What to expect while you're living and studying in Brisbane.
Find out when our representatives will be in a city near you.

What you need to do before you leave home and start your exchange experience.
Find subjects
Pre-approved subjects Choose subjects from our pre-approved list, and we can process your application faster.
All subjects Choose from over 2,200 subjects offered at QUT.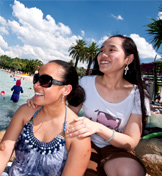 Information events in your country
Find out more