03-11-2020 IHBI's Dr Jatin Patel has received a Paul Korner Innovation Award from the Heart Foundation to progress his research in using stem cell therapies to regenerate blood vessels.
03-11-2020 A collaboration involving IHBI researcher Dr Arutha Kulasinghe has received two prestigious AusBiotech and Johnson & Johnson Innovation Industry Excellence Awards, recognising work to gain a genetic understanding of COVID-19.
16-09-2020 QUT marked World Mental Health Day on October 10 with a virtual Real Health Public Lecture entitled Mental resilience in tough times.
27-07-2020 QUT and medical devices manufacturer Osteopore have signed an Exclusive Option to Licence for a 3D printed modular bone implant technology.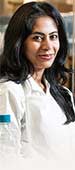 Research highlights
Read about our research successes in IHBI Advances.