12-03-2020 Design technology students at the Queensland Academy of Creative Industries' (QACI) Design Day had a practical demonstration of technology underpinning 3D printing of replacement body parts research by close neighbour, the QUT Institute of Health and Biomedical Innovation (IHBI).
02-03-2020 Co-founder of Brisbane-based gut analysis company Microba, Professor Gene Tyson, will head up a new field of microbiome-focused research at the Queensland University of Technology (QUT).
02-03-2020 The verdict is in - cold water immersion after intense strength-training impairs muscle growth and strength and thus defeats the purpose of all that effort.
20-02-2020 Brisbane's grass pollen levels over the past two months have been up to four times higher than levels recorded anywhere in Australia since comparative records have been kept, QUT's Professor Janet Davies told a federal parliamentary inquiry this week.
14-02-2020 A new rapid DNA test to detect chlamydia infection in koalas developed by QUT and University of Queensland (UQ) researchers is now being manufactured, and kits to run about 4000 tests will be made available free to wildlife hospitals and rehabilitation centres caring for koalas after the recent bushfires.
25-10-2019 Climate change and the human impact on earth will be explored in a new digital project at QUT's The Cube.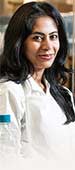 Research highlights
Read about our research successes in IHBI Advances.