31-01-2019 Some people receiving end of life care may not receive adequate pain and symptom relief when some clinicians who, unsure of the law, under-medicate due to concerns about legal liability.
30-01-2019 QUT scientists have found that a drug derived from omega-3 fatty acids can reduce osteoarthritis inflammation that's been caused by a high-fat diet.
03-01-2019 Healthy eating is a lifelong commitment and if you are setting new goals for 2019 and want to get rid of the effects of Christmas/ New Year excess eating, QUT dietitian Dr Helen Vidgen has some indispensable tips.
20-12-2018 The stinkiest waste item ever – prawn, crab and lobster shells – could soon be made into an anti-microbial wound cover to combat superbugs and help faster healing with less scarring, and potentially a haemostatic bandage that rapidly stops bleeding.
20-12-2018 Getting sunburnt could be another rebellious rite of passage for young people, says QUT public health researcher Dr Elke Hacker who is testing new UV detection wearables to try to make sun safety part of daily routine.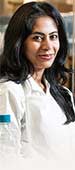 Research highlights
Read about our research successes in IHBI Advances.