14-07-2020 QUT Vice-Chancellor and President, Professor Margaret Sheil, today outlined to staff the university's response to the challenges presented by COVID-19 as well as measures to position the university for a strong recovery in a fundamentally changed world.
01-07-2020 A newly discovered endometrial cancer biomarker and diagnostic method will enable detection of the tumour type that is likely to spread and recur so that clinicians can initiate treatment early and stop the cancer from attacking other parts of the body.
25-06-2020 QUT has been named Australia's best young university in the Times Higher Education rankings announced tonight (24 June 2020).
25-05-2020 Ten-year-old Emily has a life-limiting heart condition that makes her weak and unable to attend school as often as she would like. At times she requires home oxygen and uses a walker. She lives on a rural cattle property with her parents and two younger brothers.
19-05-2020 Agricultural students at Brisbane's Corinda State High School have become citizen scientists while at home, providing useful data to QUT researchers on local distribution of flowering grass species which produce allergy-triggering pollens.
30-04-2020 The Australian Prostate Cancer Research Centre (APCRC-Q) at QUT's Institute of Health and Biomedical Innovation (IHBI) is pioneering the most clinically advanced technologies in Australia for prostate cancer management.
25-10-2019 Climate change and the human impact on earth will be explored in a new digital project at QUT's The Cube.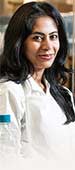 Research highlights
Read about our research successes in IHBI Advances.