16-11-2017 Improved disease surveillance at Australian ports and borders is needed to prevent the growing threat of dengue infection spreading across the country, with a new QUT study identifying potential risk factors linked to dengue outbreaks beyond climatic conditions.
10-11-2017 A project aiming to accelerate the safe and successful deployment of automated vehicles by having them understand human intent is among 22 QUT-led projects to receive Australian Research Council (ARC) Discovery Project Grants announced today.
10-11-2017 QUT Professor Monika Janda has received the 2017 Women in Research Award in the Scopus Researcher of the Year Awards.
06-11-2017 Welcome to QUT's weekly round-up of news and events. For regular updates, follow us on Twitter (@QUTmedia) and Facebook (@QUTBrisbane). To subscribe to this wrap, please email media@qut.edu.au.
20-10-2017 Burning rubber not skin is the key message QUT sun safe researchers want Gold Coast 600 spectators to remember this weekend (October 20-22), with the release of a new app specifically designed for the Gold Coast.
17-10-2017 Non-beneficial treatment of patients who are at the end of their life costs Australia approximately $153.1 million a year, a study published in the British Medical Journal Open today has found.
12-10-2017 Technologies and products that promise to improve sun protection will be put to the test at a new research centre being established in Brisbane by QUT in partnership with clinical trial company Q-Pharm.
12-10-2017 Getting a laugh may not help get the road safety message across, with a new QUT study showing humorous driver sleepiness advertisements can get lost in translation.
11-10-2017 Confusion over what is a "safe following distance" has QUT road safety researchers calling for a standardised definition to prevent tailgating.
11-10-2017 Drivers aren't as cautious approaching a railway level crossing compared to a road intersection despite the greater risk of fatality if a collision occurs, a new QUT study has found.
Other News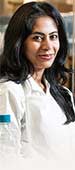 Research highlights
Read about our research successes in IHBI Advances.