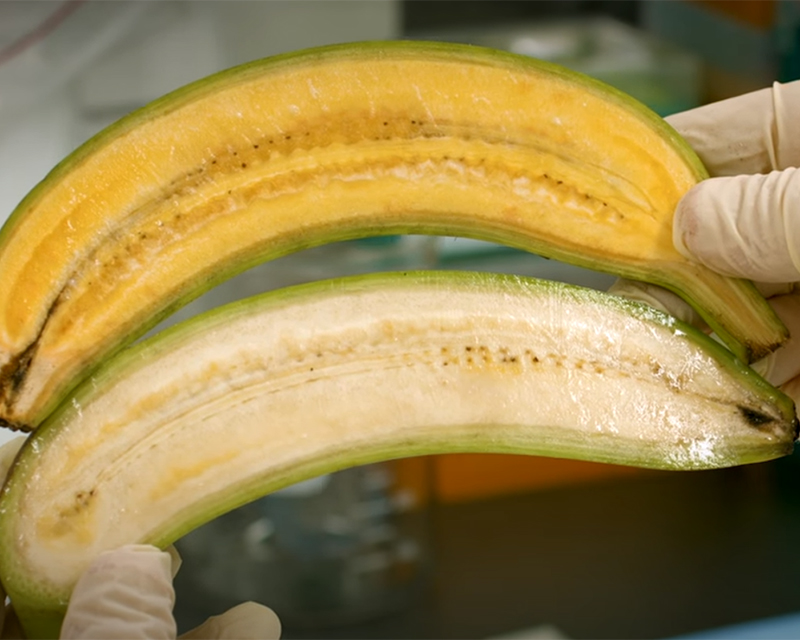 Top, modified biofortified EAHB with high levels of pro-vitamin A and bottom, standard EAHB.
The Centre for Agriculture and the Bioeconomy Banana Biotechnology program, funded by the Bill & Melinda Gates Foundation has developed a nutrient dense golden biofortified banana, a world first, which is rich in pro-vitamin A. The results of this research have been published in the Plant Biotechnology Journal.
Vitamin A deficiency (VAD) is linked to child mortality and blindness, with statistics estimating between 650,000 and 750,000 deaths per year from VAD only. In East Africa, and Uganda in particular, their staple food crop is a cooking banana known as the East African highland banana (EAHB). Harvested green, these bananas are cooked and consumed daily and constitute the main carbohydrate intake of the Ugandan diet. However, like most bananas, EAHBs are low in essential micronutrients including pro-vitamin A, iron and zinc and as a result the EAHB-based diets of Ugandan are low in these nutrients.
The Banana21 project has the key mission of "alleviating micronutrient deficiencies in Uganda through the biofortification of its staple food" using genetic modification. This project is now in the last phase of development leading to the commercial release of these new, lifesaving banana varieties in Uganda. A key element of this project has been technology transfer with a number of African students undertaking their PhD studies at QUT and returning to continue to work on the project as Program Leaders, Project Leaders and key scientists, allowing the project to fulfil our mandate of "Made in Uganda, By Ugandans, for Ugandans!"
The "super banana" was named as one of Time Magazine's 25 Best Inventions in 2014.
Contact us

Institute for Future Environments
Level 6, P Block
Gardens Point
2 George St
Brisbane QLD 4000 Australia
Postal address
Institute for Future Environments
GPO Box 2434
Brisbane QLD 4001