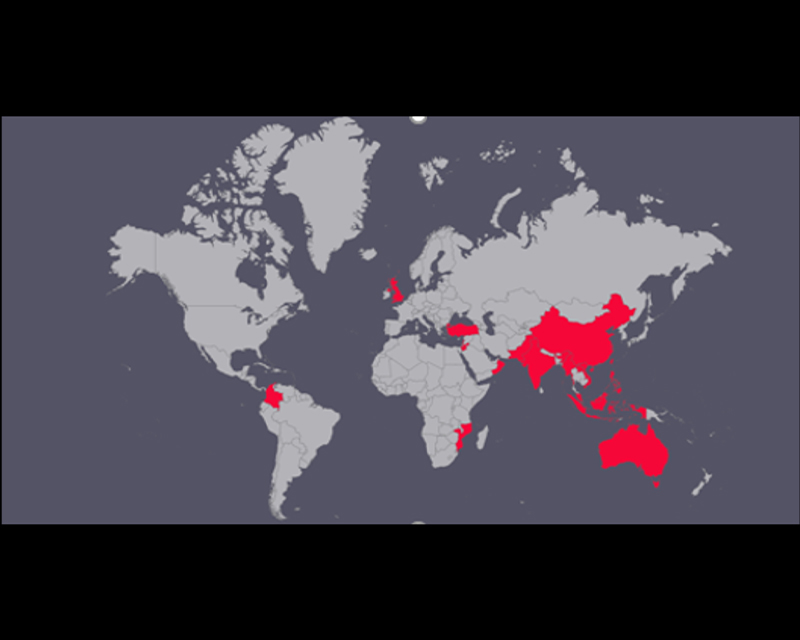 The distribution of TR4 January, 2020.
Fusarium wilt tropical race 4 (TR4) is the greatest threat to the ongoing viability of the commercial Cavendish banana industry in many parts of the world, including Queensland, and particularly the export industries based in Central and South America. TR4 also poses a major threat to small holder production as it has the capacity to kill more than 50% of the bananas grown worldwide. TR4 originated in south east Asia and is continuing its movement inexorably through the banana growing continents.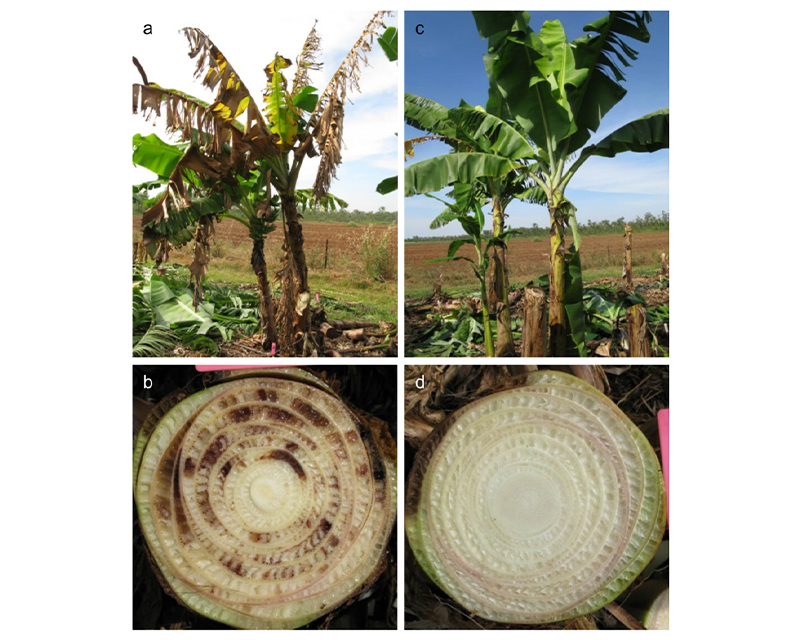 These two Cavendish bananas are growing in the same location in the Northern Territory. The wild-type (non-GM) plant is infected with Fusarium wilt tropical race 4 and shows typical external symptoms (a) as well as internal pseudostem necrosis characteristic of the disease (b). In contrast, the GM plant expressing a resistance gene (c and d) is healthy and shows no signs of the disease.
The Centre for Agriculture and the Bioeconomy Banana Biotechnology program has developed transgenic Cavendish bananas resistant to this devastating soil-borne fungus. These TR4-resistant bananas are currently in their second round of field trial evaluation. The results describing the development of these plants and their performance in the initial field trial have been published in Nature Communications. The recent detection of TR4 in Colombia poses a serious threat to the global export trade which is based primarily in South and Central America. We believe these bananas, once commercialised, will be a major step towards protecting the US$15 billion Cavendish global export industry and the myriad of subsistence farmers currently under serious threat from this pathogen. The next version of the program's TR4 resistant cultivars is currently being generated using genome editing.
Learn more about our banana biotechnology work here.
Contact us

Institute for Future Environments
Level 6, P Block
Gardens Point
2 George St
Brisbane QLD 4000 Australia
Postal address
Institute for Future Environments
GPO Box 2434
Brisbane QLD 4001