QUT researchers are working with Banyo Pilot Plant to examine how seismic loads affect pre-war brick facade buildings with timber roof trusses.
As part of their Discovery Early Career Researcher Award (DECRA) work on the seismic evaluation of non-structural unreinforced masonry components, a team of researchers including Dr Hossein Derakhshan, PhD student Nouman Khattak, and Professor David Thambiratnam are testing the adequacy of these roof structures to support adjoining masonry walls and measuring the effect of various seismic loads on a building's structural integrity.
Primarily built in the pre-war period, these buildings are common in many regions, including in New Zealand and Australia, and haven't been designed with earthquakes in mind. Sufficient building codes for earthquake damage prevention were yet to be developed at the time of construction and there is no data on how seismic loads could affect the integrity or stiffness of these types of roof trusses, which essentially act as a structural element providing rigidity for the brick or masonry facade.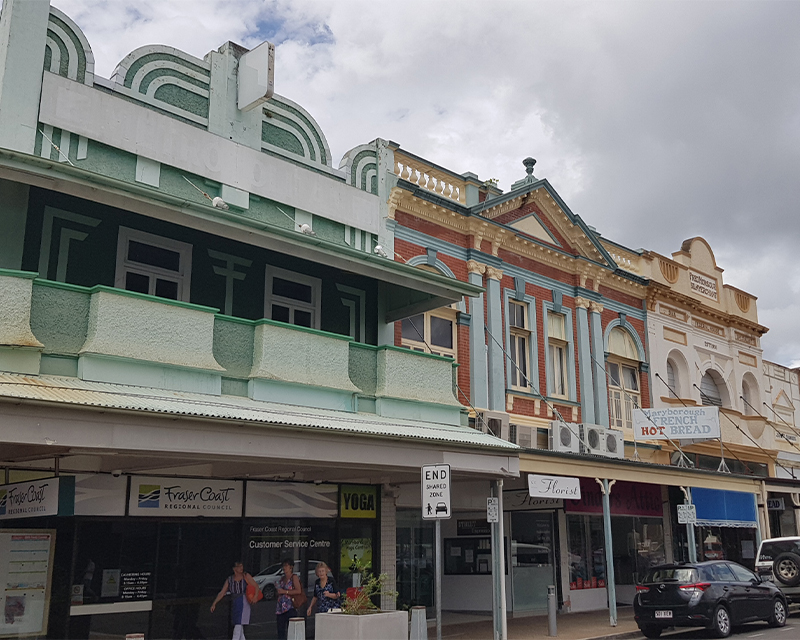 Masonry front buildings in Maryborough, QLD. The teams' study of 377 buildings in QLD from aerial view maps showed that about 50 per cent of all older masonry buildings have pitched roofs.
"Prior to these tests, we didn't know the behaviour of these types of structures under earthquake conditions. We're testing the rigidity of the structures under varying degrees of seismic load, both with and without low-impact reinforcement interventions in place.
"This testing reproduces the effects of an earthquake on the roof, so we can see what, if any, reinforcements could help reduce roof deformations. Smaller roof deformations, in turn, help to protect the building from damage and keep people safe." Dr Derakhshan said.
This time-lapse shows the roof truss testing at our Banyo Pilot Plant
Once testing is done, Dr Derakhshan hopes to develop an equation from the derived data which could be used to calculate how much seismic load similar structures will be able to withstand before needing intervention.
Some of the current methods for reinforcing these often historically important structures can be invasive, expensive and time-consuming, including reinforcing the roof with underlaid timber sheets, which requires removal of the top corrugated iron.
Testing the truss structures with and without low-impact interventions, like inexpensive purlin ties and brackets (see video above), will indicate if non-invasive reinforcement interventions are effective and viable. If proven, these methods may not only increase safety for building occupants and passers-by, but also help decrease the impact of interventions on the historical integrity of the structure.
This research is in collaboration with Pryda Australia and supported by the QUT Research Engineering Facility's Banyo Pilot Plant.
Contact us

Institute for Future Environments
Level 6, P Block
Gardens Point
2 George St
Brisbane QLD 4000 Australia
Postal address
Institute for Future Environments
GPO Box 2434
Brisbane QLD 4001