Fermentation and Bioprocessing Laboratory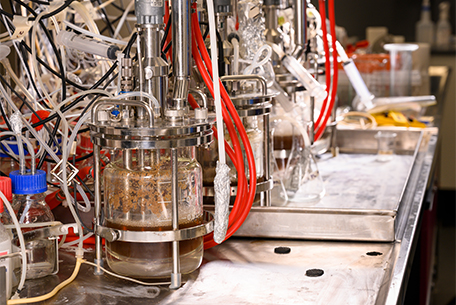 The Fermentation and Bioprocessing Laboratory supports researchers, students and project partners with cutting-edge equipment and expertise in fermentation and synthetic biology. Supported by the Biorefining Research Facility, our laboratory enables researchers and collaborators to identify the best ways of finding answers to their bioprocessing research questions. We also collaborate with QUT's Science and Engineering Faculty to train undergraduate students in the use of our equipment and further develop the future of the Australian bioeconomy.
Research
We have enabled real-world results for a diverse range of multi-scale research projects.
Microbial protein production systems – strain discovery, development and fermentation (bacteria and yeast)
Probiotic animal feed supplement development and testing
Food waste processing to extract high-value nutraceuticals
Microbial oil production from sugarcane bagasse
Microbial fuel cells
Textile waste treatment for resource recovery
Our laboratory has PC1 certification (PC2 and BC2 pending).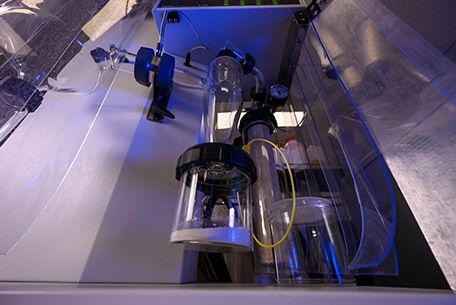 | Equipment | Features |
| --- | --- |
| Class II Biological Safety Cabinets | This ventilated laboratory workspace enables a safe space for working with materials contaminated with pathogens requiring a defined biosafety level. |
| Plasma Generator | The PlasmaLeap Technologies plasma generator offers both its unique plasma power sources and an array of reactors designed for biological and catalytic reactions resulting in a novel mutation breeding method. |
| Tempered or cool static or shaker incubator | We have access to various temperature-controlled cabinets. |
| Synergy HTX microplate reader | The Synergy HTX microplate reader allows for high throughput screening of strain selection, media selection and small molecules production. |
| Anaerobic culture system | This system includes an anaerobic chamber and gas mixing station that permit the successful cultivation of microorganisms on solid and liquid media. |
| New Brunswick Bioflo fermenters | These fermenters offer simplicity and ease of use for volumes up to eight litres. |
| Gas analysis | Our online/offline mass spectrometers are excellent tools for fermentation monitoring. |
| UV-Vis spectrophotometers | These spectrophotometers monitor the growth behaviour of microorganisms. |
| Benchtop and Floor centrifuges | Solid-liquid separation and/or concentration. |
| Freeze dryer | Condenser refrigeration for freeze drying microorganisms. A useful method for long-term preservation. |
| Buchi Spray Dryer B-290 | Spray drying optimisation. |
| CF homogenize | An efficient cell disruptor using high pressure to release cellular materials from bacteria, yeast, algae, mammalian and insect cells, fungus and more. |
| High Performance Upright Light Microscope | Primo Star with internal HD camera able to examine and analyse microorganisms. Record images and videos with the high resolution of 5 megapixels, compatible to ZEN imaging software. |
| Techfors-S bioreactor | Low minimum working volume from 3 to 30 L. In situ sterilisation. Reliable measurement and setting of the bioprocess parameters and communication with eve®. Multiple controlled parameters, such as temperature, stirring speed, pH, pO2, anti-foaming agent, feed. Special options for batch, fed batch and continuous cultivation strategies. |
Our equipment is available to staff, students, external researchers and commercial organisations at a competitive price. Our laboratory provides both self-service and full-service options.
We provide sample preparation and support to suit your individual preference and budget. Our experienced staff can provide training, advice and guidance on the experimental process and the analysis of results, so that you achieve optimal outcomes.
If you're a QUT staff member or student who wants to undertake research activities with us, please follow the steps here.
To arrange a consultation as an external researcher or partner, please contact us.
Contact us

Biorefining Research Facility
Room 620, Level 6, Q Block
Gardens Point
2 George St
Brisbane QLD 4000 Australia
Postal address
Biorefining Research Facility
GPO Box 2434
Brisbane QLD 4001