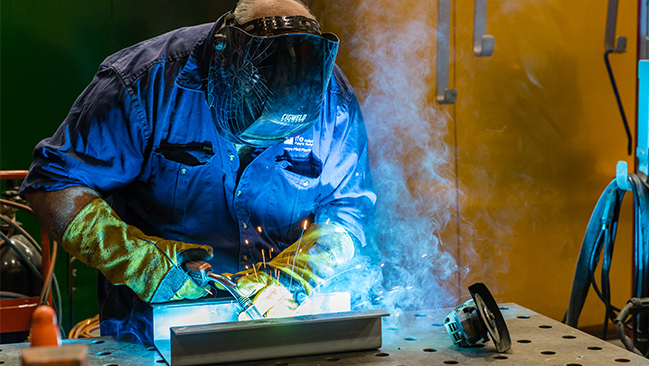 Our facility enables scaled-up research in traditional engineering, industrial biotechnology and scientific applications, testing and validation.
The site includes:
two warehouses of 1,500m2 and 1,000m2 with specialised labs, workshops and engineering infrastructure
office space of 500m2 with hot desks, a meeting room, a conference room and a technical library
uncovered hard stand area of 2,000m2.
The site is suited to large-scale, heavy engineering equipment and small to medium (up to 200m2 footprint) pilot equipment.
Research
Research projects include the development of pilot equipment and processes for industry partners as well as long-term monitoring of industrial products.
The broad areas of research conducted at Banyo are:
mechanical and manufacturing engineering
power and energy engineering, high-voltage testing and solar applications
applied superconductivity in maritime propulsion, power equipment and defence applications
water and wastewater engineering, including stormwater evaluation and desalination
environmental and ecological materials processing, including whole organism treatment
biofuels and biocommodity production
tropical and subtropical aquaculture
rock preparation and crushing, thin section preparation and core handling
plasma reactor development and Parr reactor operation
sugar research including biomass processing and instrument development.
Our state-of-the-art pilot plant allows for a range of research and discovery.
| Capability | Description |
| --- | --- |
| Structural testing | A scientific and industrial lab for heavy mechanical and structural testing, including high temperature and flame conditioning. It includes a 5t gantry crane and 2.5t forklift for heavy lifting, 100m2 of strong floor (up to 500kN), and a six-burner gas furnace that can deliver up to 1000°C. |
| Electrical testing | A power engineering lab for experimental and qualification testing of both high-voltage and low-voltage devices, and characterisation of superconducting materials. |
| Geological sample preparation and analysis | A geological lab for preparing and analysing samples, with equipment for rock cutting and crushing, core logging, thin sections and soil analysis. |
| Aquaculture | A large aquarium for studying fresh-water organisms and the impact of controlled environmental factors. |
| Data acquisition | Labview data logging systems for collecting data and test reports. |
| Mechanical workshop | For construction, fitting and assembly work, with a lathe, milling machine, grinders, drill press, vice, hand tools and a large selection of nuts, bolts and different materials. |
| Electrical workshop | An assembly facility for small projects, including printed circuit board (PCB) design and construction. |
| Services | Walk-in cold room; single and three phase power; compressed air; deionised water. |
The Banyo Pilot Plant provides services to QUT staff and students, external researchers and commercial organisations, ranging from basic technical support to commercial research. Specialist staff are available to carry out analyses, or we can train you to use the instruments to do your own work.
The Banyo Pilot Plant offers consultancy and commercial testing services to researchers and organisations on a fee-for-service basis. Please contact us to discuss your needs.
QUT staff and students
If you're a QUT staff member or student who needs to undertake research activities at Banyo, please go to project information for QUT staff and students (login required).
Contact us

Banyo Pilot Plant
Lot 7, Northlink Industrial Park
457 Tufnell Road
Banyo QLD 4014 Australia
Postal address
Banyo Pilot Plant
GPO Box 2434
Brisbane QLD 4001