Reach new heights in your health career - postgraduate study at QUT can take you there.
Choose the right course
Complete fast, tailored graduate certificate in only one semester.
Broaden your professional knowledge with a one-year graduate diploma.
Become a trained and experienced expert in your field with a coursework masters.
Explore solutions to the challenges in your sector with a research masters or PhD.
Focus on real health priorities
'Studying postgrad nursing at QUT was more worthwhile than I could have ever imagined. The course content was current and really reflected priorities in health.

I was able to tap into the knowledge of staff who had experience in acute care, intensive care, emergency care, and I was confident that the advice they were giving was the best advice.'
Carley Furler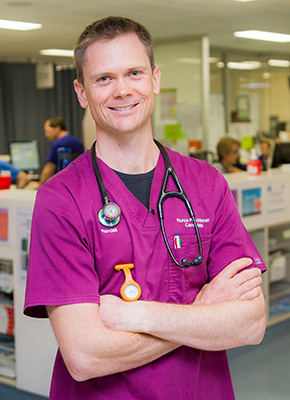 Coursework degrees
Our teaching staff of recognised industry leaders and researchers work closely with a global network of partners across diverse fields of health. Our contribution to new knowledge ensures our coursework programs incorporate current research outcomes and prepare you to be a leader in your chosen field.
Research degrees
Our focus is to ensure better health becomes a reality in our lifetime through research that translates from the laboratory to patient care. The majority of our research is conducted through the Institute of Health and Biomedical Innovation and our researchers work in multidisciplinary teams across multiple sites, including hospitals where patients are treated.
Our graduates have skills as independent researchers and have the capacity to meet the rigorous research standards that apply in Australia and around the world.
Short courses and professional development
Our combination of industry expertise and academic excellence allows us to deliver short courses that align with emerging healthcare priorities and trends.
Our selection of programs across the health disciplines offer you an opportunity to develop advanced skills as a healthcare professional who can provide strategic leadership and successful service delivery.
Stay connected
Get just the information you want on courses, scholarships and events.