Each year, the Student Leadership Awards recognise the leadership of our students on campus, locally, nationally and internationally for their:
contribution to the university community
contribution to the wider community while enrolled as a student
personal development activities.
Award categories
Awards include:
QUT Alumni Student Leadership Excellence Awards
QUT Alumni Student Leader of the Year Award (selected from the above winners)
QUT Alumni Special Excellence Awards (awarded at the discretion of the judging panel).
Nominations
Nominations for the awards may be submitted by members of the QUT community and the wider community. For example, nominations may be submitted by:
graduates of QUT or its predecessor institutions
QUT staff
QUT students
members of the community
parents
employees.
Nominations are closed for 2019.
Eligibility
Nominees must:
be currently enrolled
studying towards a degree
have not previously received a Student Leadership Excellence award from QUT.
Domestic and international QUT students are eligible for this award.
We encourage you to nominate students who have completed two or more years of study.
2019 award winners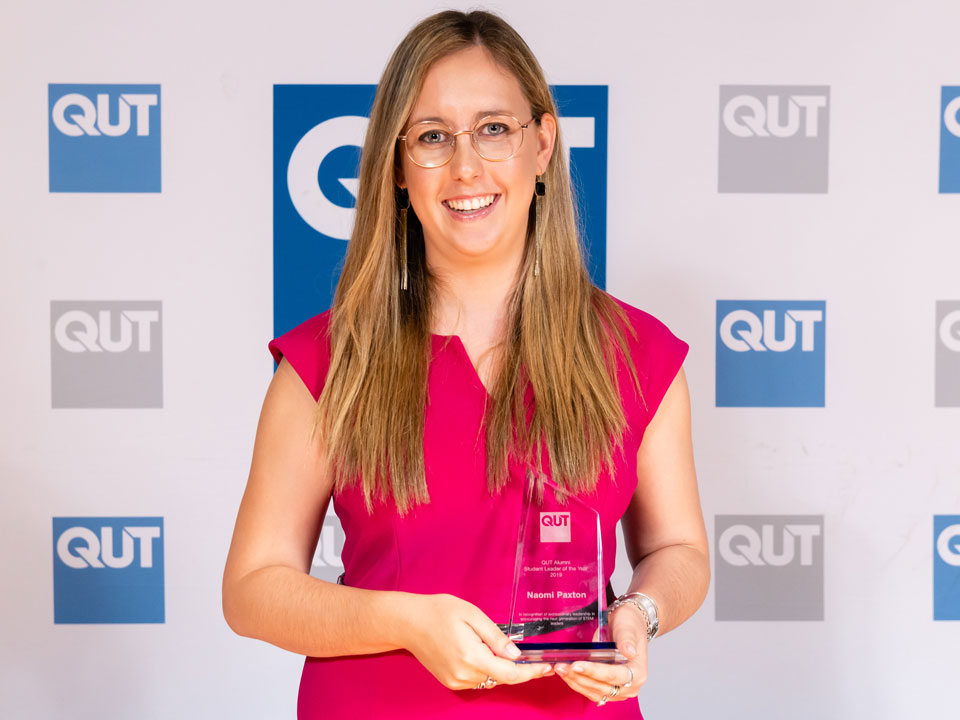 2019 Student Leader of the Year
Naomi Paxton (Doctor of Philosophy (Science and Engineering))
Naomi has made an exceptional contribution to QUT and STEM throughout her time at university. Her current research project involves combining advanced biomaterials to 3D print scaffolds for bone regeneration. She has shared her love of science with QUT and the wider community, engaging with over 3,000 students across Queensland through the QUT STEM for Schools and Wonder of Science Program. Dedicated to teaching at QUT, Naomi commits to providing an engaging, active and dynamic classroom environment using systematic scientific enquiry to encourage deep learning.
Naomi received the 2019 Student Leader of the Year award in recognition for her extraordinary leadership in encouraging the next generation of STEM leaders.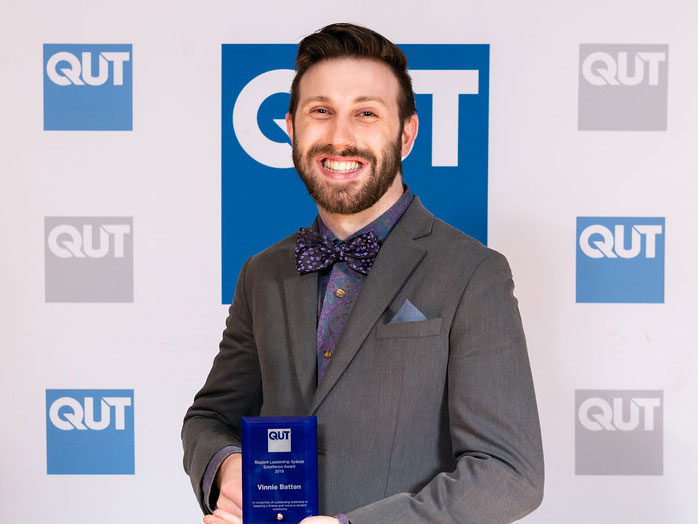 QUT Alumni Special Excellence Award Winner
Vinnie Batten (Bachelor of Science)
Vinnie is the current President of the QUT Guild and, after his election in December 2018, assumed responsibility for allocating an additional $1M in funding towards services and programs to enhance the university experience for every student. He is an active member of the University Academic Board, The Curriculum Standards Committee and has formed a working party to review QUT's late assessment policy. Vinnie is also Founder of the QUT Guild Abilities Collective, which aims to provide a more inclusive space for students identifying as living with a disability.
Vinnie received this Special Excellence Award in recognition for his outstanding leadership in fostering a diverse and inclusive student community.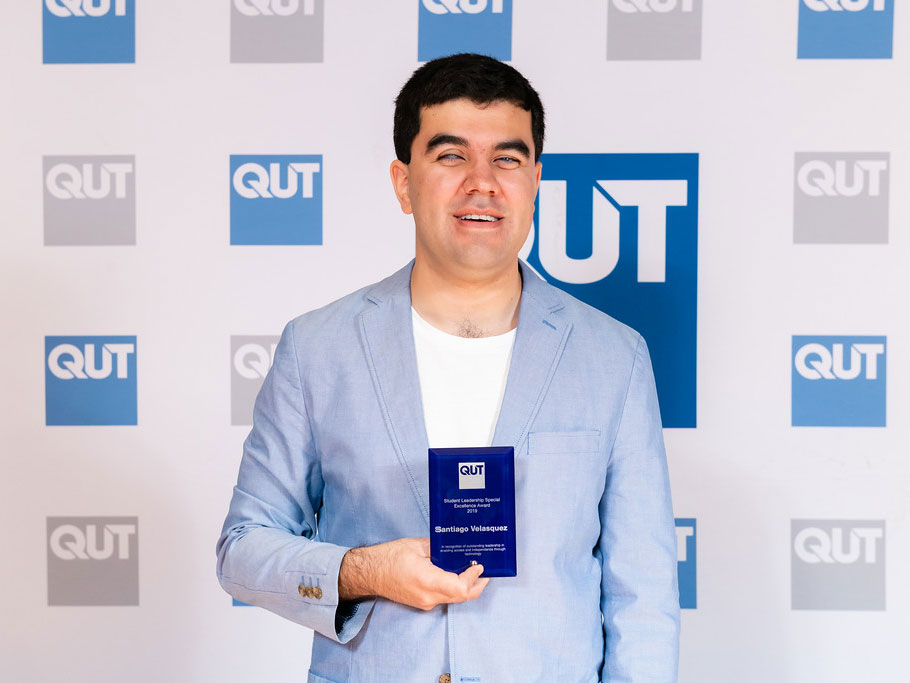 QUT Alumni Special Excellence Award Winner
Santiago Velasquez (Bachelor of Engineering (Honours))
Santiago has made a significant contribution to accessibility at QUT; working with staff to improve the design and delivery of engineering courses for vision impaired students and improving elevator access on campus through the installation of braille interfaces. His contribution has led to QUT being the first university in the Southern Hemisphere to offer an electrical engineering program that is accessible to vision impaired students.
As founder and CEO of EyeSyght, Santiago has made it possible for the vision impaired to access graphical content. He works in partnership with MIT alumni to drive Hailo, a system that remotely alerts bus drivers when a visually impaired person wants to board the bus. He recently attended the United Nations in New York conference to discuss how technology can be used in higher education to support students with disabilities.
Student Leadership Excellence Award winners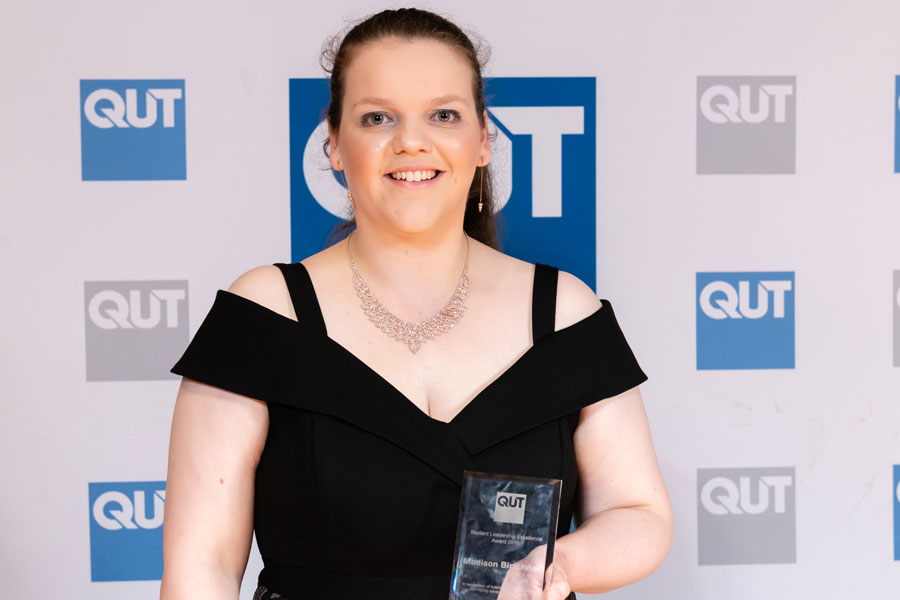 Madison Birtchnell
Bachelor of Business
Madison has striven to actively contribute and make a positive impact to the QUT community since starting her studies at QUT 18 months ago. She is a QUT Connect Volunteer, Leadership and Development Sessional Facilitator, and Kickstart and LeaderCon Conference volunteer. She is a member of numerous QUT networks and committees, and holds executive positions in three. She has held more than 50 volunteer roles since starting her studies.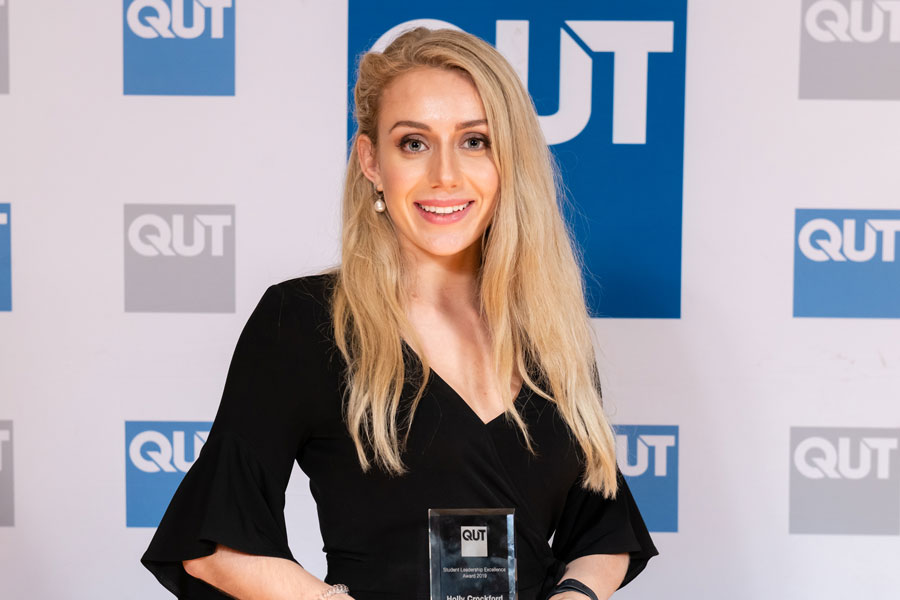 Holly Crockford
Bachelor of Business and Bachelor of Laws (Honours)
Holly is actively involved in the university and wider community. Earlier this year she co-founded the Lawyers Without Borders Student Division at QUT and through this initiative has created two chapters that assist Kenyan women who are unable to afford lawyers. She is the Director of ClimateForce which has fundraised over USD $1M to organise logistics for the first expedition to the South Pole using renewable energy.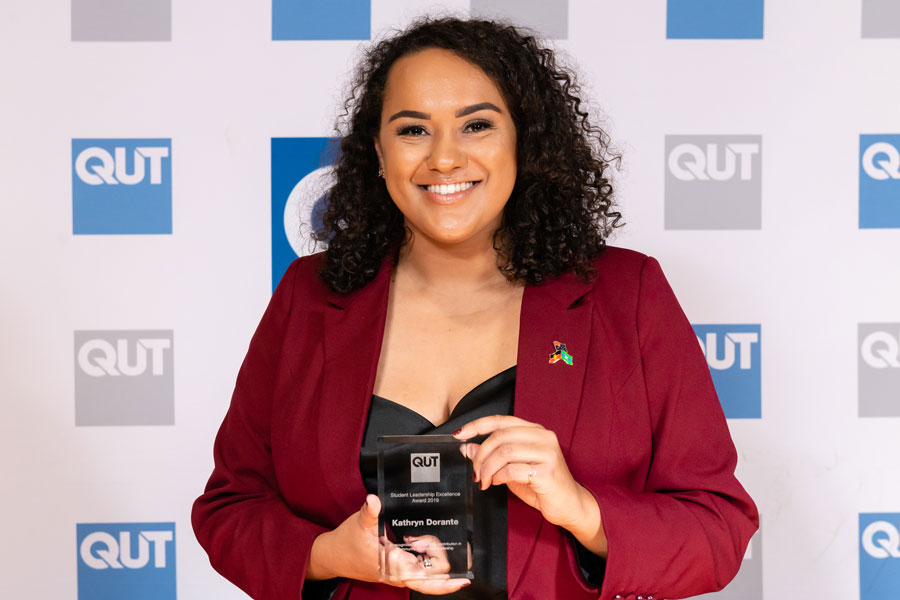 Kathryn Dorante
Bachelor of Business and Bachelor of Laws (Honours)
Kathryn is an outstanding young Torres Strait Islander leader. She is an active member of QUT's Indigiso and has coordinated numerous fundraising events for the Indigenous National Games. As an Aboriginal and Torres Strait Islander Officer for the QUT Law Society, Kathryn has also organised an Indigenous Reconciliation Breakfast, NAIDOC events and published an article with Torts Illustrated.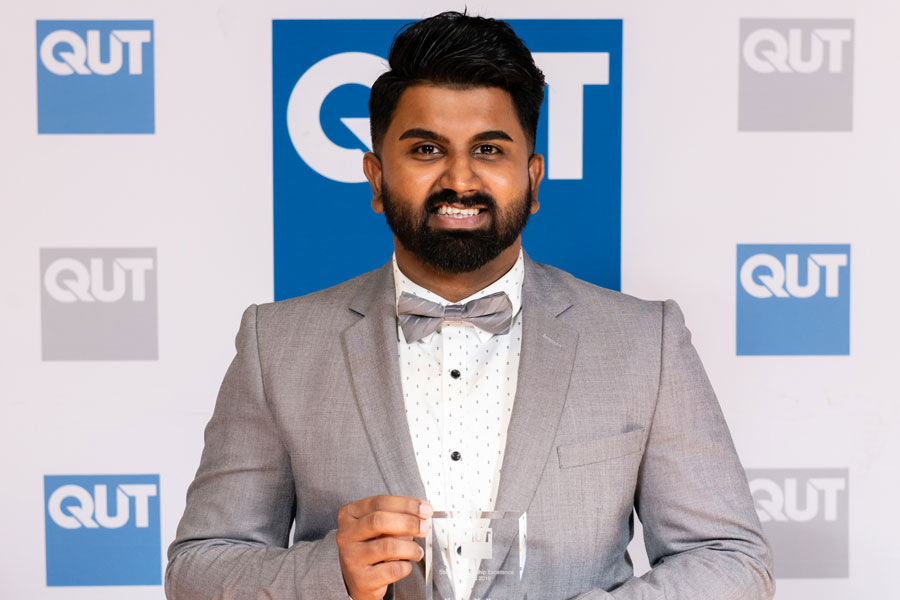 Kasun Kalhara
Bachelor of Engineering (Honours)
Kasun has significantly contributed to the university community through his roles as Director of Community Services and Professional Development within the Golden Key International Honour Society and past membership with the University Academic Board. He is involved in various QUT programs as a mentor, facilitator, ambassador and sessional academic.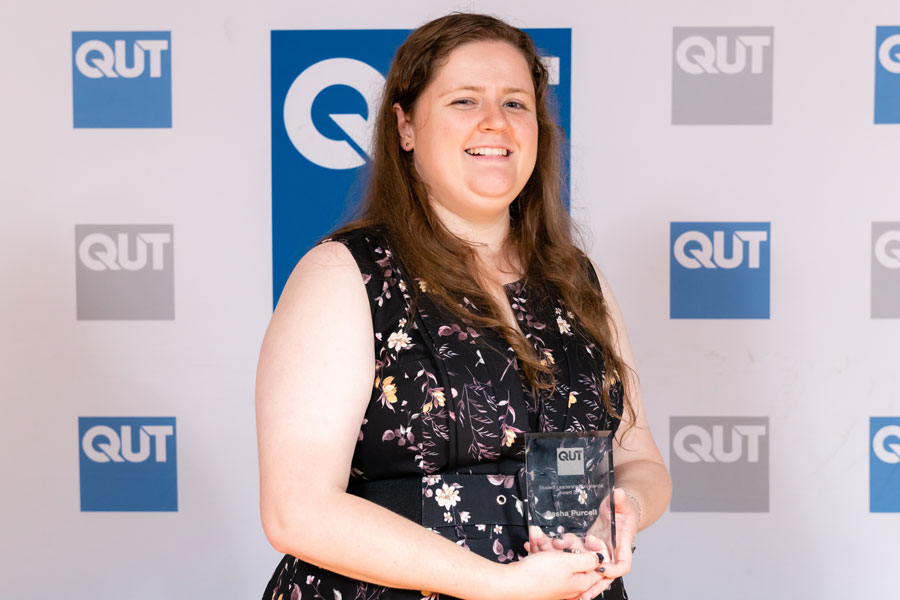 Sasha Purcell
Bachelor of Fine Arts and Bachelor of Laws (Honours)
Sasha has been a passionate advocate for social justice, particularly within the QUT LGBTIQA+ and wider community. She has made significant contributions to university governance through voluntary membership in QUT clubs such as QUT Queer Collective. She was a founding member of the LGBTIQA+ Action Plan Working Party, Student Sexual Assault and Harassment Working Party and QUT Student Representative Network.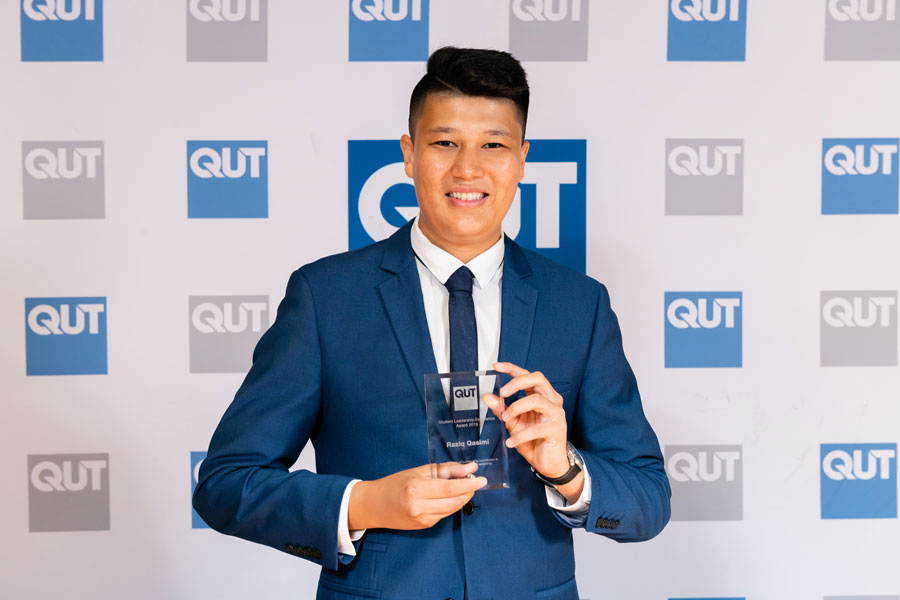 Raziq Qasimi
Bachelor of Justice and Bachelor of Laws (Honours)
As a QUT Connector and Faculty of Law Ambassador, Raz has supported students during Orientation week and has travelled to schools all around Queensland to discuss potential study paths and studying law at QUT. Outside of his university community, Raziq invests significant amounts of time and effort into supporting young people from refugee backgrounds and has recently spoken about refugee-related issues at a United Nations consultation in Canberra.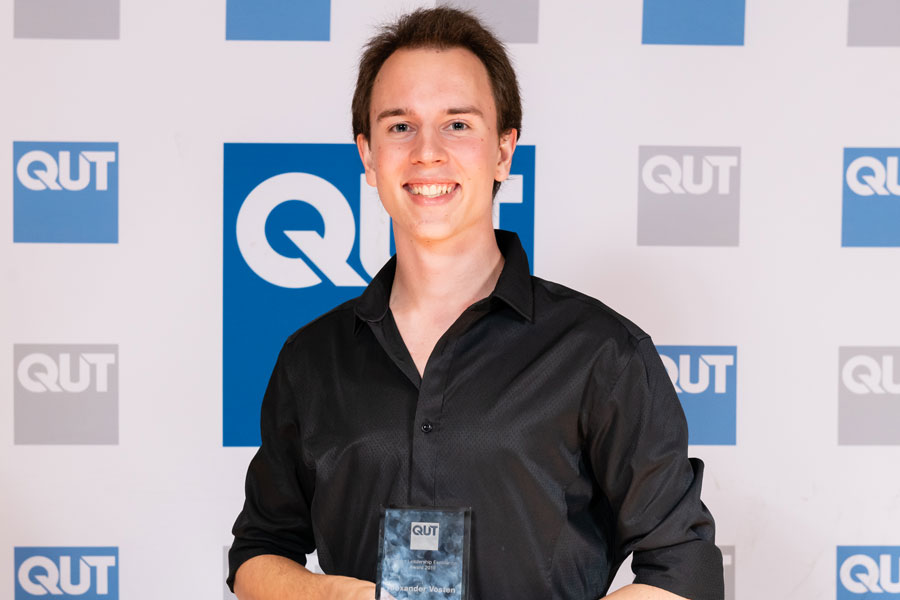 Alexander Vosten
Master of Philosophy (Science and Engineering)
Alex has been actively involved in the academic and social elements of university life. He is currently president of community outreach chapter The Big Lift and has held roles in more than five clubs and societies. During his time as a College of Excellence member, Alex planned, hosted and managed over 500 events on campus. Most recently, he travelled to Kuala Lumpur to fly the QUT banner at the International University Scholars Leadership Symposium.
Past winners
Student Leader of the Year
Rebecca Nguyen Le
Special Excellence Award Winners
Jed Fraser
Christopher McNeely
Excellence Award winners
Enya Chong
Todd Crawford
Somayeh Hussaini
Samuel Pitman
Andrew Trubshaw
Daniel Vankov
Victoria Wall
Carman Wong
Student Leader of the Year
Nalongded Luanglath
Excellence Award winners
Ria Bhagat
Timothy Hui
Julian Loh
Josh Loyd
Chenoa Masters
Fred Duku Silver
Damien Slinger
Kristy Winter
Student Leader of the Year

Nicholas Johnson

Special Excellence Award

Adam Hibble

Excellence Awards

Joeanne Allen
Matthew Connop
Jade Hourigan-Scammell
Jenna-Maree Jacob
Joshua Maguire
Vossco Nguyen
Jack Nolan
Tiana Reimann
Student Leader of the Year

Tri Mulyani Sunarharum

Special Excellence Award winners

Amy Gunnell
Sam Turner

Excellence Award winners

Anja Ali-Haapala
Melissa Blacklock
Allison Boland
Corey Curran
Olivia Hutchinson
Sean Melis
Eddie Robinson
Kevin Yow Yeh