The Outstanding Alumni Awards recognise graduates of QUT (and predecessor institutions) for exceptional professional, academic or research achievements and contributions to the community at the local, state, national or international levels.
The annual event is an initiative of the QUT Alumni Board, which consists of graduates, past and present staff, past and present Council, and other qualified members.
Each year we award our outstanding alumni who've achieved great things in their fields since graduation.
Award categories
Awards include:
QUT Alumnus of the Year
Young Alumnus of the Year for graduates under the age of 35
Outstanding Alumni Award for each faculty
Special Excellence Awards made at the discretion of the Chancellor's judging panel
Alumni Award for Innovation and Entrepreneurship
Young Alumni Award for Innovation and Entrepreneurship.
Nominations
Nominations can be received from any member of the community, including QUT staff and past Outstanding Alumni Award winners. An individual may also nominate themselves.
Permission must be obtained from an alumnus before proceeding with a nomination.
Check the rules, guidelines and eligibility criteria (PDF file, 575.4 KB) for the nominations process.
2019 award winners

2019 Alumnus of the Year
Lex Greensill CBE
Lex Greensill is a solicitor of the Supreme Court of England and Wales and the Supreme Court of Queensland. He founded Greensill, which after just eight years, has become a world leader in working capital finance with more than $60 billion extended to more than eight million customers in more than 165 countries.
Watch Lex's video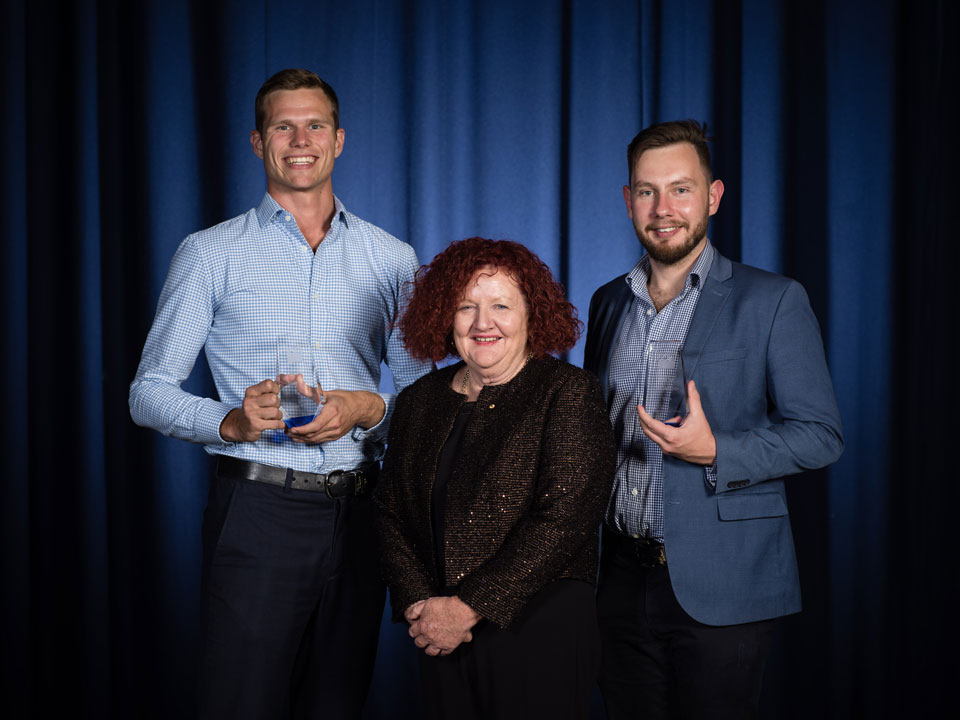 Young Alumni of the Year
Josh Cameron, Alex Ghiculescu, Jake Phillpot and Tasmin Trezise
This year's QUT's Young Alumni of the Year winners founded TANDA, the hugely successful global workforce management company. It's used today by more than 5,000 companies across a range of industries.
Watch TANDA's video
Past winners
2018 Alumnus of the Year
With nearly 30 years' experience as a legal advocate for Indigenous Australians, Tony McAvoy SC is the 2018 QUT Alumnus of the Year and Faculty of Law Outstanding Alumni Award Winner.
Young Alumnus of the Year
Dr Chris Jeffery is an award-winning engineer, army officer, doctor and highly successful medical entrepreneur. He is CEO of Field Orthopaedics and executive director of Robotic Engineering Research Labs and Audeara.
Innovation and Entrepreneurship Award
Sandra Mau has more than 10 years' experience in product research and engineering and technology development. She is founder of TrademarkVision and IEEE QLD Women in Engineering.
Young Innovation and Entrepreneurship Award
Lisy Kane, Sarah Moran, and Tammy Butow from Girl Geek Academy and are on a mission to teach one million women how to get into the tech industry and launch their own start-ups by 2025.
Special Excellence Award
Amanda McClelland has been instrumental in developing higher level training for global health emergencies and has received a Special Excellence Award for Achievements and Contributions to International Health Security and Humanitarian Aid.
Business School winner
Jeff Dunn is the Asia Pacific head of AQR Capital and an influential thought leader in the investment community.
Creative Industries winner
Archie Moore is renowned as one of Australia's most significant contemporary artists, with his work exhibited in museums and galleries around the world.
Education winner
Patrea Walton PSM is distinguished for her contribution to public education in Queensland, having influenced many of the state's major reforms and education policies.
Health winner
Veronica Casey is recognised for her achievements over a 40-year nursing career. She is Executive Director of Nursing and Midwifery at Metro South Health and Executive Director of Nursing at Princess Alexandra Hospital.
Science and Engineering winner and Special Excellence Award
Ben de Bont is considered one of America's leaders in cyber security, with more than 20 years' experience in the field. His Special Excellence Award is for achievements and contributions to international cyber security.
QUT Alumnus of the Year and Faculty of Law Outstanding Alumni Award

Darryl McDonough

QUT Young Alumnus of the Year

Kate Gifford

Innovation and Entrepreneurship Outstanding Alumni Award winner

Joel Pobar

Young Innovation and Entrepreneurship Outstanding Alumni Award winner

Michael Brett

Special Excellence Award for Achievements and Contributions to Indigenous Communities

Wayne Denning

QUT Business School Outstanding Alumni Award winner

Christine Corbett

Creative Industries Faculty Outstanding Alumni Award winner

Peter Greste

Faculty of Education Outstanding Alumni Award winner

Hon. Leeanne Enoch, MP

Faculty of Health Outstanding Alumni Award winner

Tina Coco AO

Science and Engineering Faculty Outstanding Alumni Award winner

Michael Dempsey
QUT Alumnus of the Year and Creative Industries Outstanding Alumni Award

Kate Miller-Heidke

QUT Young Alumnus of the Year

Jessa Rogers

QUT Business School Outstanding Alumni Award winner

Caitlin Wilson

Faculty of Education Outstanding Alumni Award winner

Maryanne Walsh

Special Excellence Award for Achievement in Podiatry and Faculty of Health Outstanding Alumni Award winner

Greg Dower

Faculty of Law Outstanding Alumni Award winner

Roman Quaedvlieg

Science and Engineering Faculty Outstanding Alumni Award winner

Richard Eastes

QUT Business School Special Excellence Award for Service to the Community

Paul Quilliam

Special Excellence Award for Contributions to the Nutrition Profession

Lim Su Lin
QUT Alumnus of the Year and Science and Engineering Faculty Outstanding Alumni Award

Dr Abigail Allwood

QUT Young Alumnus of the Year

Andrew Blackman
Andrew Northcott

Special Excellence Award for achievement in education and Faculty of Education Outstanding Alumni Award

Carmee Lim

Special Excellence Award for innovation in youth support and education

Andrew Gourley

QUT Business School Outstanding Alumni Award

Carolyn Dawkins

Creative Industries Faculty Outstanding Alumni Award

Leigh Sales

Faculty of Health Outstanding Alumni Award

Karni Liddell

Faculty of Law Outstanding Alumni

Dominic McGann