Study areas
Creative practice brings together a range of creative disciplines, encouraging collaboration that's reflective of the real-world creative industries.
Our courses provide a job-ready balance of communication skills and creative thinking.
Learn the strong design engagement principals you need to bring your ideas to life, and find solutions to real-world problems and social issues.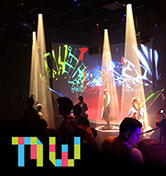 No Walls
Be inspired at the intersection of creativity, technology and innovation.

QUT Creative Enterprise Australia aims to be Australia's leading business development agency for start-up creative businesses and your first point of call when wanting to grow your business.