Real connections
We are proud of our involvement with the local, national and international business communities. Our partners provide generous support to students through scholarships, development programs and mentoring. Work placements, events sponsorship and research partnerships offer mutual benefits.

Sponsor our best talent and connect with tomorrow's leaders.

Raise your organisation's profile at Brisbane's leading business events.

Collaborate with leading experts for tailored business solutions.

Our corporate, government and community sponsors.
Contacts
QUT Business School - Events and Engagement Manager
Phone: 3138 4029
Fax: 3138 1513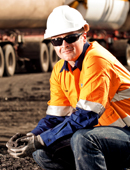 Collaborating in real-world research