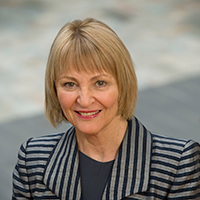 Professor Carol Dickenson AM is Provost at Queensland University of Technology (QUT). Professor Dickenson was QUT Registrar from 2002 to 2011 and Director, Human Resources at QUT from 1997 to 2002.
Professor Dickenson held the positions of Senior Lecturer, Graduate School of Business, QUT from 1996 to 1997 and Lecturer, School of Management, QUT from 1989 to 1995.
Whilst working in the Faculty of Business, Professor Dickenson was appointed on secondment to a number of management positions. These include Academic Advisor to the Dean, Faculty of Business, QUT from 1995 to 1996; Project Leader, Senior Management Development Program Project, Australian Centre in Strategic Management, QUT from January to June 1993; and as Manager, Public Sector Management Commission from 1990 to 1992. She has also worked as a consultant.
Professor Dickenson is actively involved with a range of public sector and education agencies and is a member of the Universities Australia Standing Group for TEQSA.
Professor Dickenson has a Bachelor of Business (Management) from QUT and completed her PhD at the University of Queensland in 1994. In January 2016 she was recognised for her outstanding contribution to the tertiary education sector with the award of the Member of the Order of Australia.
Professor Dickenson oversees the six faculties at QUT. She is also chair of University Academic Board. The Provost works in particular with the Deputy Vice-Chancellor (Research and Innovation) and Deputy Vice-Chancellor (Learning and Teaching) in relation to the research and teaching functions of the University and normally acts for the Vice-Chancellor and President in the Vice-Chancellor's absence.
Organisational areas reporting to the Provost are:
If you'd like to contact the Provost, you can contact her executive assistant.
Contacts
Personal Assistant to the Provost
Ms Jennifer Petley
Contact Jennifer with any enquiries or correspondence for the Provost.
Phone: 3138 2376
Int. phone: +61 7 3138 2376
Fax: 3138 4061